Directory
Return to Previous Page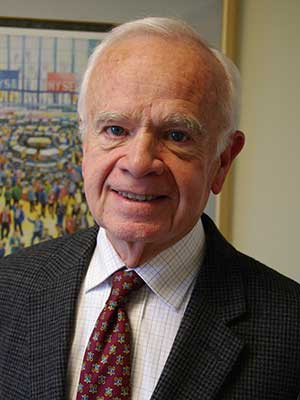 Morris, Edward
Assistant Dean, Graduate Admissions Interviews
Plaster School of Business & Entrepreneurship
Harmon Hall 203
(636) 949 4832
EMorris@lindenwood.edu
Course Information
---

FA SEM 16
FIN 32050 11
Financial Institutions and Markets
FA SEM 16
MGMT 46082 12
Management Policy
FA SEM 16
MGMT 46082 13
Management Policy
SP SEM 17
FIN 32050 11
Financial Institutions and Markets
SP SEM 17
MGMT 46082 13
Management Policy
SP SEM 17
MGMT 46082 21
Management Policy

---
Biography
Ed Morris brings a strong combination of business experience and academic qualifications to teaching finance and writing on associated topics. Following his graduation from Wharton in 1970 he began a twenty-five year career in investment banking where he became the youngest partner in the history of Reinholdt & Gardner, was the Executive Vice-President for Investment Banking at Stifel, Nicolaus & Company, and was elected President of the Fortune Group, an investment banking boutique. During that period he served on the boards of companies listed on the New York Stock Exchange, American Stock Exchange and NASDAQ and he witnessed and participated in many of the developments in the financial institutions that he chronicles in his book.

In 2002 Morris became a member of the faculty of Lindenwood University and for several years he served as the dean of the Plaster School of Business and Entrepreneurship, a school with approximately forty-five full-time faculty members and serving over a thousand students. After stepping down from the deanship he returned to full-time teaching and finished writing Wall Streeters: The Creators and Corruptors of American Finance. His most treasured accomplishment was being voted Professor of the Year by the university's undergraduates.

Morris's own academic credentials include a BA from Washington University in St. Louis, an MBA from the Wharton School of the University of Pennsylvania, and a PhD from St. Louis University.

He and his wife have four grown children and four grandchildren. They live in the Central West End of St. Louis.
---
Educational and Professional Experience
Dean and Professor, Lindenwood University, 2002-2016, teaching history of finance, financial institutions and markets, investments, and corporate finance at the graduate and undergraduate levels; Dean, Plaster School of Business and Entrepreneurship, 2006-2011, overseeing ACBSP accreditation, relocation of school to Harmon Hall, and revamp of graduate programs.


Adjunct Professor, St. Louis University, 1970-1991, teaching Corporate Finance and Financial Institutions and Markets in MBA program.




Reinholt & Gardner, General Partner and Manager, Corporate Finance Department, of regional investment banking firm, 1970-1978.


Stifel, Nicolaus & Company, Executive Vice President, Director of Investment Banking Department of major regional securities firm, 1978-1990.


Fortune Group, President of firm providing investment banking services for middle market companies, 1990-1996.


Director of several private and public companies listed on NYSE, ASE and NASDAQ, various times.




Education


Washington University in St. Louis, BA, Liberal Arts, 1964


University of Pennsylvania, Wharton, MBA (with Distinction), 1970, elected to Beta Gamma Sigma Scholastic Honorary


St. Louis University, Ph.D, Economics and Finance, 1986. (Dissertation: "Pricing of Initial Public Offerings of Common Stock")



Military Experience

U. S. Navy, commissioned officer, serving aboard U.S.S. Belle Grove in support of Riverine Forces in Vietnam, and at Treasure Island, San Francisco as instructor at Naval Schools Command, 1965-1968.
---
Selected Publications
Wall Streeters: The Creators and Corruptors of American Finance, published by Columbia University Press, October, 2015


Reviewed by Publishers Weekly, St. Louis Post-Dispatch, Institutional Investor, and Financial History.




"The Fed's Paternity," Financial History (quarterly publication of the Museum of American Finance), Fall 2015 (refereed paper)




"Why Bernie's Right About Glass-Steagall,"

History News Network,

April 4, 2016, and

BillMoyers.com,

April 5, 2016

(on-line op-ed submissions)

"Active Investing? That's So Twentieth Century," World Financial Review, May-June 2016 (article solicited by London-based publisher)
---
Presentations
Book Presentations and Signings

Left Bank Books, St. Louis, October 22, 2015



Lindenwood University, St. Charles, October 29, 2015

Columbia University (Lehman Center for American History), New York City, February 16, 2016




Museum of American Finance (Smithsonian affiliate), New York City, April 13, 2016


\

92nd Street Y, New York City, April 14, 2016




Washington University in St. Louis (Olin School), St. Louis, April 22, 1916




"St. Louis On the Air," St. Louis Public Radio (KWMU), interview and Wall Streeters discussion with Don Marsh, October 27, 2015



"The Humble Origins of Goldman Sachs," video interview with Business Insider, New York-based on-line magazine, April 20, 2016
---